In the first article of this series, guest blogger and Reiki master Colin Powell shared historical background on writing the Japanese language. In Part 2, he unlocks the deeper meaning of the term Reiki.
WRITING REIKI, PART 2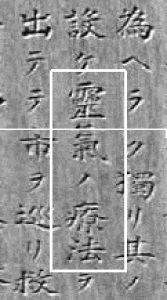 If we look at Usui's Memorial Stone (at right) or early Reiki certificates from the 1930s, we see the phrase Reiki Ryoho written in the original kanji characters. This is how Mikao Usui and Chujiro Hayashi would have written it. Some of the more traditional Japanese styles of Reiki are now using the original kanji, or at least teaching about it.
There is, however, some reluctance to use the original Reiki kanji in publicity material in Japan because, although the memory of Usui Reiki Ryoho all but disappeared after World War 2, an awareness of Reiki has resurfaced in an unusual way. Many Japanese people, especially the younger generations, have become aware of Reiki through popular entertainment….
More at What Does the Reiki Kanji Mean?
Writing Reiki
It was the title of guestblogger Colin Powell's Reiki facebook page that first caught my eye — Reiki Pure and Simple — as I had originally chosen a similar title for my book (changed by the publisher to REIKI: A Comprehensive Guide). We connected online and in webinars, and met for dinner when I taught the Medical Reiki seminar in London. Colin has been researching the Japanese origins of our practice, and I invited him to share his perspective with us. –
EVOLUTION of the TERM REIKI in JAPANESE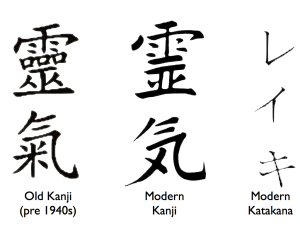 Each of the above images can be read as the term Reiki by most Japanese people. The image most Reiki practitioners in the West are familiar with is the middle one, which is used on many book covers, websites, publicity material, and even the logos of many of the largest Reiki Professional Organisations, including the Reiki Association and UK Reiki Federation here in the UK, where I live….
More at Writing Reiki
More Reading

Reiki is not a cure for any disease, including fibromyalgia, but it can boost overall health, particularly when… http://t.co/Rxv5of4Q

— ReikiProfession (Reiki Professionals) (@ReikiProfession) Tue Apr 17 2012
We are made of three parts, sp… http://t.co/07n3MoDq

— reikiemporium (reiki.emporium) (@reikiemporium) Tue Apr 17 2012
BuzzFeed – Tips For For Reiki Healing For All Women http://t.co/a3HQIo9v

— SilberFunNews (Silber Fun News) (@SilberFunNews) Tue Apr 17 2012